Check-in with QR code Apollo Silicone, get huge gifts now!!!
15/05/2020
Sincerely invite customers who are Distributors, Agents of Apollo Silicone, stores currently distributing Apollo Silicone products to participate in the interactive QR code photography program to receive amazing gifts. Unique, Valuable, and Fascinating!!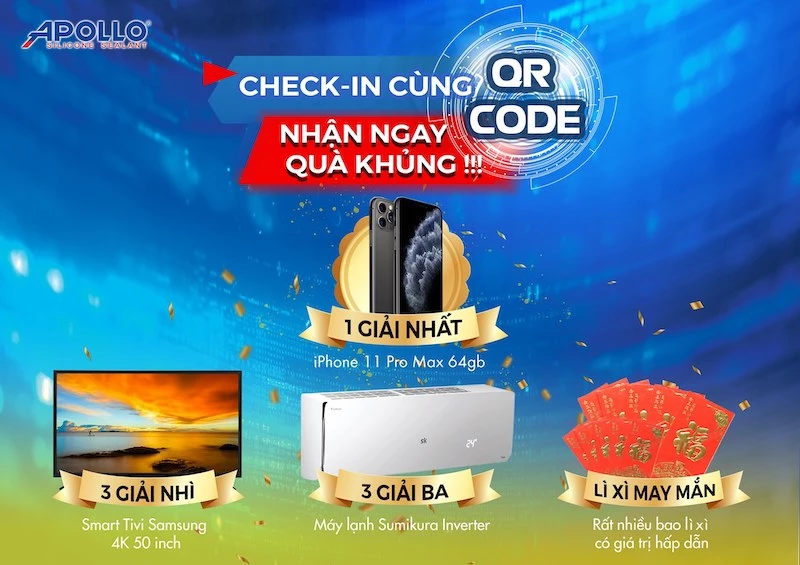 -------------

Program duration: from May 16 to June 30, 2020, divided into 3 phases:
Phase 1: May 16 - May 31, 2020

Phase 2: June 1 - June 15, 2020

Phase 3: June 16 - June 30, 2020
Award Criteria:
The posts withthe highest number of likes, comments, and shares, and the best images evaluated by the Company, will receive unique and valuable gifts from Apollo Silicone.
The results of the program will be announced on the fanpage.
Prize structure:
Each phrase: at least 5 prizes of 2 million VND & 10 prizes of 1 million VND will be awarded to the 15 best posts according to the above criteria (the number of prizes will increase in proportion to the number of engagement).
Summary at the end of the program: 7 posts with the highest votes will be awarded special prizes as follows:
- 1 First Prize: 1 iPhone Pro Max 64 GB
- 3 Second Prizes: 3 Samsung Smart TVs 50 inch
- 3 Third Prizes 3 Sumikura Inverter 1.5 HP
Please follow the instructions as follows for your post to be considered valid:
STEP 1: Take 3 pictures:
Apollo Silicone product images displayed at the point of sale/warehouse, or the shop's Apollo Silicone sign

QR Code poster is pasted at the point of sale

QR code scanning results screen with iCheck app
STEP 2: Upload 3 photos on your personal Facebook, set to public with hashtag: #chuphinhQR #nhanquakeoApollo
* Note:
- Each Customer can participate in posting many times with the condition that they upload many different images.
- Based on the program hashtag #chuphinhQR #nhanquakeoApollo, Apollo Silicone will make statistics of the entries participating in the program, so recording the full hashtag will make the statistics easy and transparent.
-------------
PLEASE PICTURE, SCAN AND RECEIVE GREAT GIFTS IMMEDIATELY!!!