The first time the images of The Face's challenge winning team are used for Vietnamese advertising
30/11/2016
After the great success of Dancing with the stars - VIP dance 2016, APOLLO Silicone kept collaborating with Cat Tien Sa & VTV to produce the show "The Face Vietnam 2016". This is the marketing activity to prove the brand position, an outstanding level of APOLLO Silicone in the domestic and foreign markets through excellent content and visuals.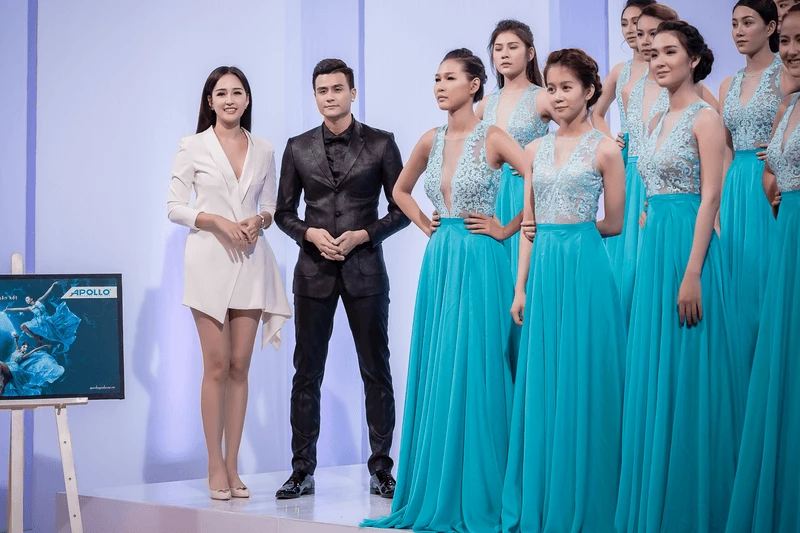 Mai Phuong Thuy - Miss Vietnam 2006, also the Brand Ambassador as the judge of Episode 3 challenge.
The first challenge sponsored by APOLLO is the photo shoot according to the theme "Bonding for life" together, another challenge is the skill challenge "Who dressed better" broadcasted in the episode 3. The Brand Ambassador, Mai Phuong Thuy represented APOLLO Silicone to be the judge of this challenge. Mai Phuong Thuy emphasized the criteria to choose the best photo associating with the very big prize that even those who joined the showbiz for a long time also find it hard to get. In addition, the photo of the winning team would be presented in the billboard at the international airport. This is the interesting thing about The Face when the sponsored brand can use photos in the contest for marketing activities to prove the position and outstanding level of the brand. APOLLO Silicone is proud to be the pioneer brand to execute and create opportunities for contestants to shine through challenges right in The Face Vietnam 2016. At the same time, the challenge winners would receive 50 million dong from APOLLO Silicone as the prize.
Following the "Bonding for life" concept, four contestants from each team acted as beautiful flying goddesses around the APOLLO "Sun" with the product at the heart of the circle, implying that APOLLO is the strong brand, a crucial material in construction. All buildings need APOLLO Silicone for construction processes.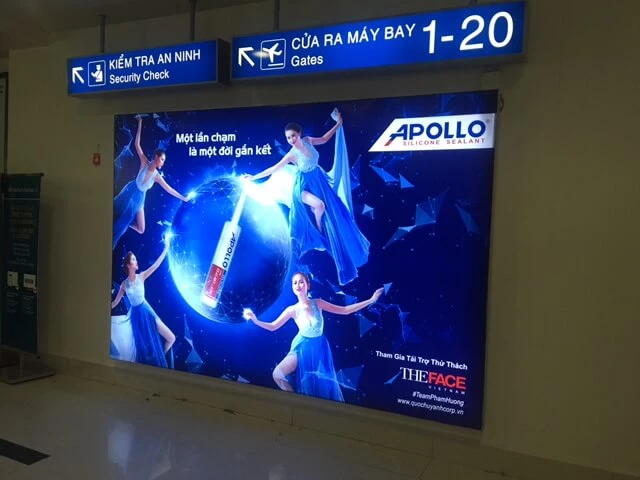 The image of Pham Huong's team - the APOLLO challenge winning team appeared in the airport's billboard.
Through photos, APOLLO Silicone wants to share the message "Commitment" and is inspired by the philosophy "Heart to Heart". Members of each team supported one another to bring out the best photos. Hard work of the winning team pays off for endless effort, overcoming obstacles, talents and training of the trainer. In order to succeed, members had to interact and put in all their efforts, passion from the bottom of their hearts in response to the efforts of the whole team and lessons from the trainer. "Bonding for life" is also the value, meaning APOLLO Silicone wants contests to understand and express through photo shoots.